Niema Stone began her business from an act of love. She was looking for products that would help with her husband's eczema naturally and healthily. Stone, a Detroit native who has worked as an elementary school teacher in Detroit Public Schoolsfor 20 years, began picking up books and reading articles to research products that could soothe her husband's sensitive skin. Through that learning, she whipped up her first batch of cold-press soap.
"It was horrible," Stone reminisces. "Absolutely horrible."
With further research, Stone found that shea butter and coconut oil were ingredients she should focus on for sensitive and dry skin issues. Through much trial and error, Stone tested different techniques of soap-making until she successfully created her first batches of soap. Family and friends were given samples and asked for their honest opinions, and from there, Stone worked on perfecting her recipes.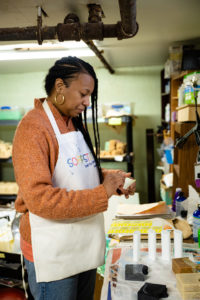 "Eventually, I got better. But it took a lot of research and dedication to learn the proper way to do things and the way the ingredients work with each technique," Stone says. "With each batch, both the soap and my skills got better, my confidence grew, and people started asking if they could purchase my products."
Stone launched Soapstone Soaps in 2014, making her hobby an actual labor of love as a small business. She has a dedicated room that she and her husband transformed into a lab to support the business growth! Soapstone Soaps now produces more than twenty varieties of soap, and Stone's product line has expanded to include body butters, body oils, bath fizzies, and natural deodorant.
Stone has the ultimate goal of retiring from teaching and opening a soap factory in Detroit, where she'll hire high school students or veterans. Her business model focuses on giving people jobs that give back to the community. She also has words of wisdom and encouragement for those looking to start their own business:
"Do your research. Read as much as possible about whatever it is you're going into. That's the only way you're going to learn," Stone advises entrepreneurs looking to begin their ventures. "Be patient with the process and make sure it is something you really enjoy doing. My business is something that I would do for free if I had to, and sometimes that's the case. So, be passionate about it and surround yourself with people and community that can support your business and your vision."
Niema Stone is the owner of Soapstone Soaps, a creative, healthy, and conscious soap company committed to promoting daily cleansing and moisturizing products. Everything is made in small batches to ensure the highest quality.
Follow on Instagram, and purchase products at these local locations and on the website.