Nedra Banks is well known within her community for her green bag. When she first started The Grubbank, she walked to many community members' houses with a green bag packed to the brim with healthy food options.
The Grubbank is a Detroit farm to vegan market that offers vegan meals to go, private and event catering, and weekly meal prep. A few years ago, Banks found that her household struggled with food. She kept a strict budget for what they could spend on groceries, and by the end of the month, they were running out of food in the home. She had tried many alternatives to keep food in the house by changing her shopping, focusing local, and various options that weren't keeping her fridge and pantry stocked for the entire month. At the same time, Banks incurred some health issues with many suggestions of removing meat and switching to a plant-based diet.
She decided to do a self-experiment and removed the meat from the household for one month. For that month, they were plentiful. Banks' family had food for 30 days and then some. In light of the health issues she removed all animal-based products from her diet that month as well. Banks found that her body did a complete transition, and she felt amazing, almost like she was 20 again. Plant-based not only became the most affordable option for Banks and her family, but it also created a positive impact on her health. Before this month, Banks catered BBQ events, so the transition was not one she took lightly. Her entire business model changed once she became vegan since all her omnivore clientele disappeared. So, she continued her journey and bumped into people interested in changing their lifestyles. That motivation pushed her further along the course, past self-doubt and the push back of many acquaintances, and onto the path of founding The Grubbank.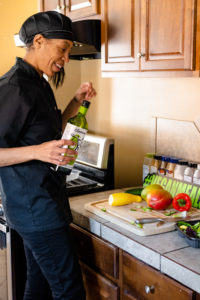 Banks began focusing her energy on her community and started feeding seniors since they were less resistant, and Banks found they needed her to help the most. As summer bloomed, Banks invited the community children to come to her house, and she taught them about fruits and vegetables from her backyard garden. Others in the community began reaching out to Banks, calling and asking for help, confirming that she was on the right path. While they may have given push back in the beginning because a healthy lifestyle change wasn't what many wanted, they began to realize it was what they needed.
"There are two defining moments for me that pushed me down this path of entrepreneurship," Banks recalls. "I was taking my daughter to school one day and saw kids outside waiting on the school bus. Their stop was near a gas station, and I watched those kids rush in there and attack the snack aisles. When I asked if they had had breakfast, they all said no for various reasons. That moment made me realize there was no alternative for their family to have access to fresh food for them to start their day."
"When I went back into my household, one of my kids came home hungry from school, and my daughter made a comment to me that opened my eyes," Banks says. "I told her they got free lunch in school, and she told me she hadn't eaten lunch in school since elementary because it was so horrible. That kickstarted my mission, and that's where I came up with the idea of The Grubbank."
Banks' idea seemed simple: Give people access to fresh food. When Banks and her community shopped within city limits it often resulted in purchasing expired or food that quickly rotted. As she learned more about healthy options, Banks was turned onto Detroit's farming community. She partnered with Keep Growing Detroit to expand her garden further for friends, neighbors, and anyone hungry.
"Everyone knows they can go into the backyard with their baskets and get whatever they need. I deliver weekly meals to friends, family, and local businesses. That's where my green bag came in. I didn't have a car at the time, so I would pack my green bag full and walk to wherever and whoever needed fresh food. It's a running joke; there goes Nedra with her green bag."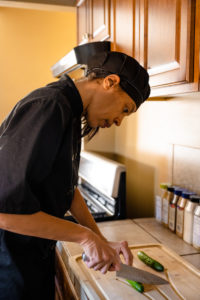 Nedra Banks notes that starting a business isn't easy and that her passion and motivator have been her community and anyone looking to make a lifestyle change. This makes her target market small and large at the same time. For those looking to get into the business of providing food for their community, Banks advises, "stick to your guns and don't let anyone tell you you can't do it. I had a lot of naysayers saying no one wanted what I was offering, but they just didn't realize they needed it."
Regarding lifestyle changes, for those looking to incorporate a more healthy approach or go fully vegan, Banks says, "find your tribe who will support you. And while you're incorporating your fruits and vegetables, eat colors. I tell all my clients to eat the rainbow on their plates! And most of all, stick to it and keep going. If you need any help, contact me!"
Chef Nedra was one of five entrepreneurs featured in this recent Model D piece.
Nedra Banks owns The Grubbank, a fresh produce market that offers vegan meals on the go, meal prep and planning, and catering events. Follow on Instagram, Tiktok, Facebook, and book a meal prep appointment.