Jessica Kwalli owns Jessica Blair Beauty, formerly known as Black Beauty Diamond Supply. As Kwalli pursued her venture in the beauty industry, she realized how big it could potentially become. She began talking to lawyers to make sure she was taking the proper precautions regarding the growth and discovered a beauty company by a similar name in California. With plans to expand beyond Michigan and as a national brand, Kwalli realized that the name was necessary for growth, though it was difficult.
"I was thinking about the longevity of my business and brand," Kwalli explains. "I'm looking at pursuing a trademark for the name, and it had to be one that would represent me, the products, and not compete with any other. So, Jessica Blair Beauty was officially created years after the business itself."
Kwalli began her business after graduating from MSU with a medical-related career and working in physical therapy. The summer of 2020 hit hard for medical workers, and Kwalli, like many others, began to rethink the structure of her life.
"I realized if I was going to be working long hours, and I mean long, it was going to be in an industry, and for a business, I was passionate about," says Kwalli. "It was an eye-opener for me, and thankfully, I'm now truly living out my true passions."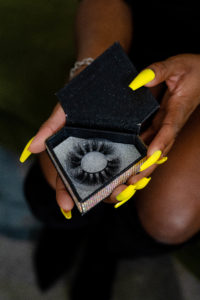 "I was shopping at a local beauty supply store here in Detroit," Kwalli reminisces. "There was a woman in front of me with her young son, and he was running up and down the aisles as children do. The gentleman helping her, who turns out was the store owner, got so mad he yelled at the little boy. His yell held zero respect for the woman and her son. It made me realize that I could provide a product to my community, service, and safe space that they would feel comfortable in. Many of Detroit's beauty supply stores are the same junky store with bad customer service. It was the moment I realized that I could change this industry for the better."
Kwalli began researching ways to get into the beauty industry and how to open and run a beauty store. Though the task was daunting and she didn't know where to begin, Kwalli noticed one of her notebooks sitting by her at the time had a vital message embossed on the cover. Write Every Moment.
"So I did just that," Kwalli says. "Each day, I would jot down ideas, thoughts that would come to mind. I'd then start doing one thing at a time. Which put together a blueprint."
Now, Kwalli runs an online store where she's selling beauty products, hosting pop-up shops, and is in the process of closing on a storefront. Jessica Blair Beauty also was a Motor City Match Round 18 winner.
"It's all in motion now, and it feels so good."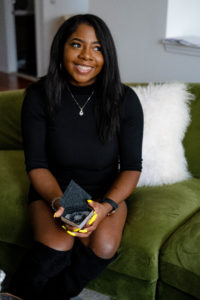 Kwalli says, "networking is important" for business advice. "I researched many different business programs. I started working with Small Business Development Centers under SBA in July 2020 when I had no idea how to get started. I was going into the beauty industry and didn't know what an NAICS Code was. I ended up with a business advisor there, and she helped guide me in the right direction. My advisor was amazing in assisting with market research, recognizing competitors in the area, and helping me lay everything out so I could see what I was going into."
Kwalli participated in TechTown Retail Boot Camp last spring alongside ProsperUs' Training Program. "Utilize all the resources and learn your competitors. If anything, it will inspire and motivate you to be the absolute best you can be. And knowing that you can provide for your community in that way, that's so rewarding as a business owner."
Jessica Kwalli owns Jessica Blair Beauty, a beauty supply store. Follow along with their website as they rebrand and sign up for their newsletter to stay up to date.