Deidre is the owner of Yotique, a consignment and retail boutique. Her shop carries vintage, pre-owned, and new clothing and accessories. Deidre has always had a passion for fashion and, more specifically, vintage clothing. When she was around 6 or 7 years old, her favorite hobby was playing dress-up out of her mother and grandmother's closets.
"My grandmother had these fur coats with animal heads around the neck. I remember being scared and intrigued by those jackets and putting on her big heels. Being the fashionista she was, my grandmother had one of those oversized closets in her house in Rosedale Park. I remember going over there and it being a maze. A big house with an enormous closet full of clothes."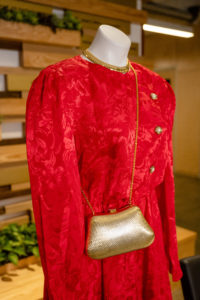 As she grew older, she would go to the thrift store with her grandmother, who would give her a budget and tell Deidre to find what she could with that, and not a penny more. Deidre would then head to the grab bag, which contained pieces of jewelry and scraps. She would clutch that bag all the way home and then make her own jewelry to gift to family for Christmas, birthdays, and big holidays.
When Deidre began going to the thrift store on her own, she would find articles of clothing and scrap that she liked and was also affordable. She would cut pieces from them and turn them into clothes. "Everyone at school was always so impressed and asked where I got certain items," she recalls. "It's something I never stopped doing. Eventually, I realized it was something I could turn into a business."
Yotique was founded in 2016, though Deidre didn't do anything with the business until 2018. She connected with ProsperUs and went through their training program, and that's when the business really started.
Yotique is currently a pop-up, though Deidre is looking for a brick-and-mortar space for her boutique. She's currently a vendor at Eastern Market on Sundays in the summer and will be adding more days in the upcoming season. Yotique is also scheduled to be at over 50 pop-ups this year so customers and fashion lovers will have ample opportunities to purchase Deidre's gorgeous selection.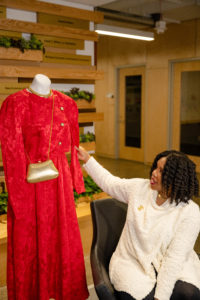 "Take all the time you need" is Deidre's big advice for starting a business in Detroit's fashion industry. "And make sure to take advantage of every entrepreneurial program that the city has to offer. I went through a few programs, Build, ProsperUs, and TechTown, and I still need more training. It's a hands-on continuous learning type of thing as there are different steps to opening a business. I was so close to acquiring a brick-and-mortar, but I got nervous and stuck. There was some serious sticker shock. Even with all the training I underwent, I realized I still had so many questions and so much more to learn."
"As a business owner, it's important to network and utilize your connections," advises Deidre. "Keep up with the programs, call with questions, utilize the resources that the city has to offer. They've helped me so much through this process. Don't rush, and don't think you need to do everything at once. It takes time."
Diedre was one of five entrepreneurs featured in this recent Model D piece.
Deidre owns Yotique, a vintage consignment and retail boutique. Follow on Instagram, Facebook, Marketspread, and local markets and pop-ups.