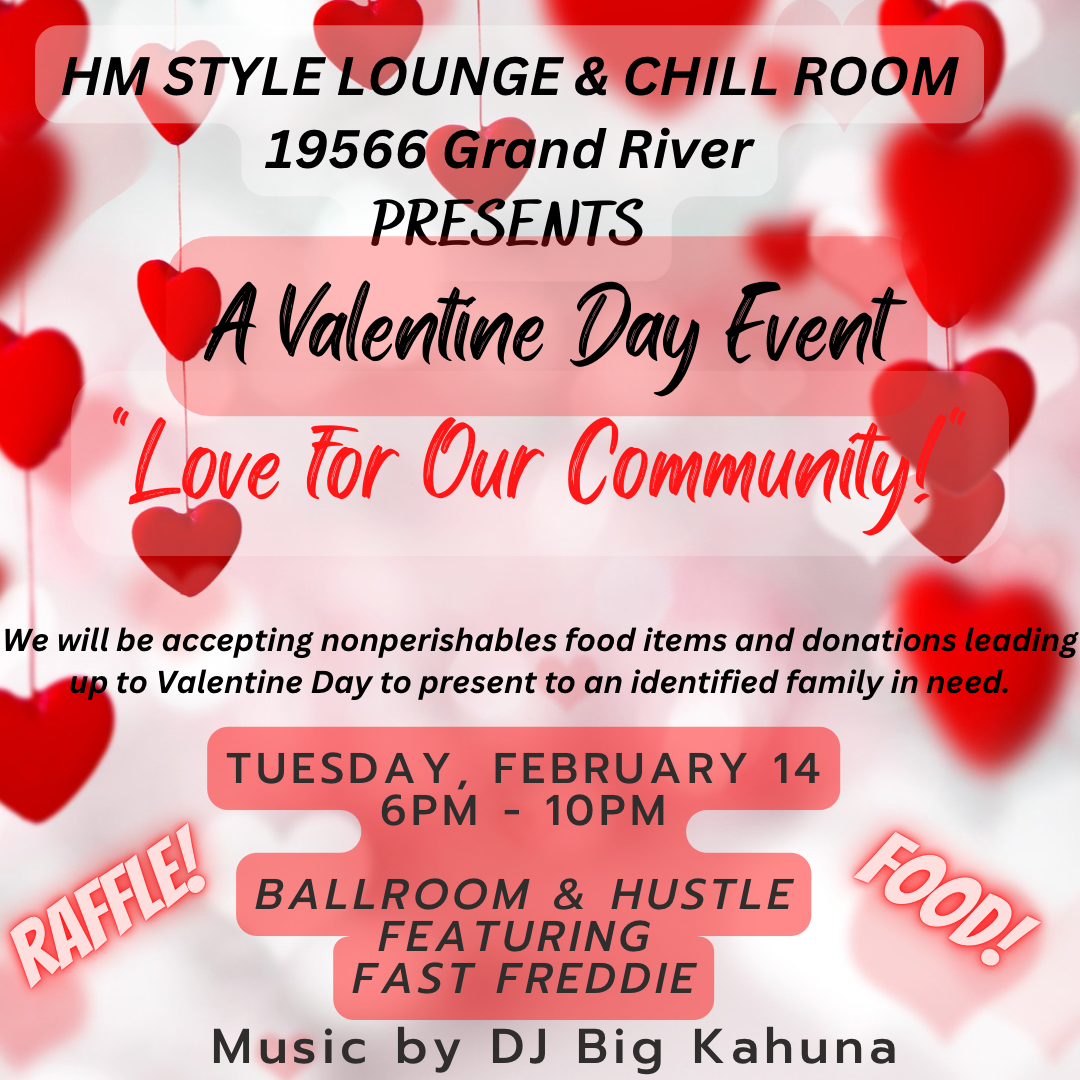 The perfect end, or start, to a night out happens at this intimate music lounge with cocktails and small bites, located on Grand River. This cultural meeting place is perfect for everyone who loves music. Follow their social to keep up with happenings!  On Feb 14, they're hosting a "Love for the Community" event and will be accepting nonperishable donations leading up to Valentine's Day to present to an identified family in need. What's better way to celebrate a holiday of love than with community love? They'll also have cocktail specials, live entertainment, and a raffle of HM Style Lounge glasses throughout the evening.
Open from 4:30 p.m. to 9 p.m. on Valentine's Day, the casual fine dining restaurant in Jefferson Chalmers Corridor offers fine Caribbean cuisine in a fun atmosphere. Dishes range from cooked chicken curry, jerk chicken, plantain fritters, and oxtail. When it comes to sweets they're known for their Mango Tango. Walley's vanilla frozen custard, blended with house-made mango chutney. No reservations are required, and walk-ins are welcome on Feb 14.
Interested in learning how to bake from scratch with a certified pastry chef? Look no further! In this four-hour session, students will learn how to: set up their kitchen, different recipes, scale ingredients, baking techniques, properly store everything, and take home a delicious cake! Sign up for baking or decorating classes and enjoy this experience with a few people or a group. For those looking for a unique Valentine's gift of custom sprinkle blends, Porsha Kimble's PK Flavorings, cake decorations, and delicious cake flavors; stop by their 7 Mile location between 10 a.m. and 6 p.m.
Wine adds an exquisite thread to every special evening, and Wine4DaPpl is a private service that includes more than just imbibing. They curate the physical setting, food, and music that add texture and flavor to the evening. Reach out soon to book their services to enhance Valentine's Day date night plans!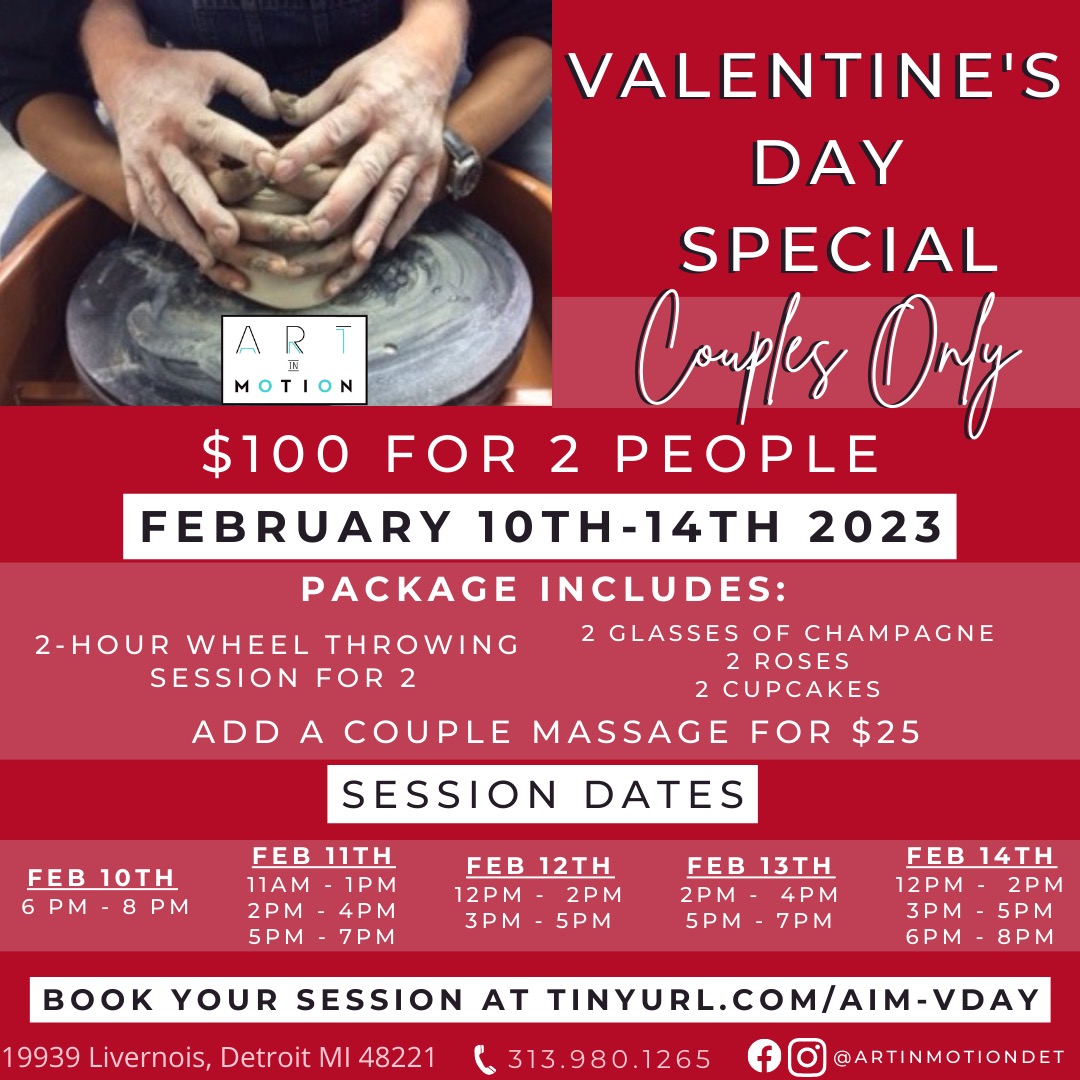 The perfect Detroit date idea — a Valentine's Day Special intended for couples. Cue Unchained Melody playing in the background to really set the mood. Enjoy throwing clay on the wheel, two glasses of champagne, two roses, and two cupcakes. Sign up for a session from Feb 10 - 14.
Wind down with your significant other, bring a group, or the whole family — movie night is fun for everyone! Select your showtime at the Bel Air Luxury Cinema and load up on the popcorn. See the rest of this list for lots of great eats to enjoy before or after the show! On Feb 14 they'll be offering $7 tickets for any movie with a showtime before 5 p.m.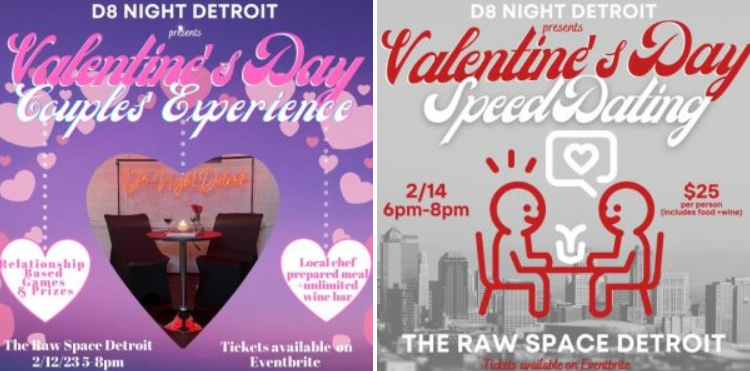 Book D8 Night Valentine's Day Couples Experience on Feb 12 for a fun game night combined with an atmosphere of a romantic dinner for two. You'll explore the depths of your relationships and marriages through a series of gameplay and enjoy a beautiful chef-prepared meal alongside an unlimited wine bar. For those that are single, on Feb 14, D8 Night is hosting an evening of Valentine's Day Speed Dating!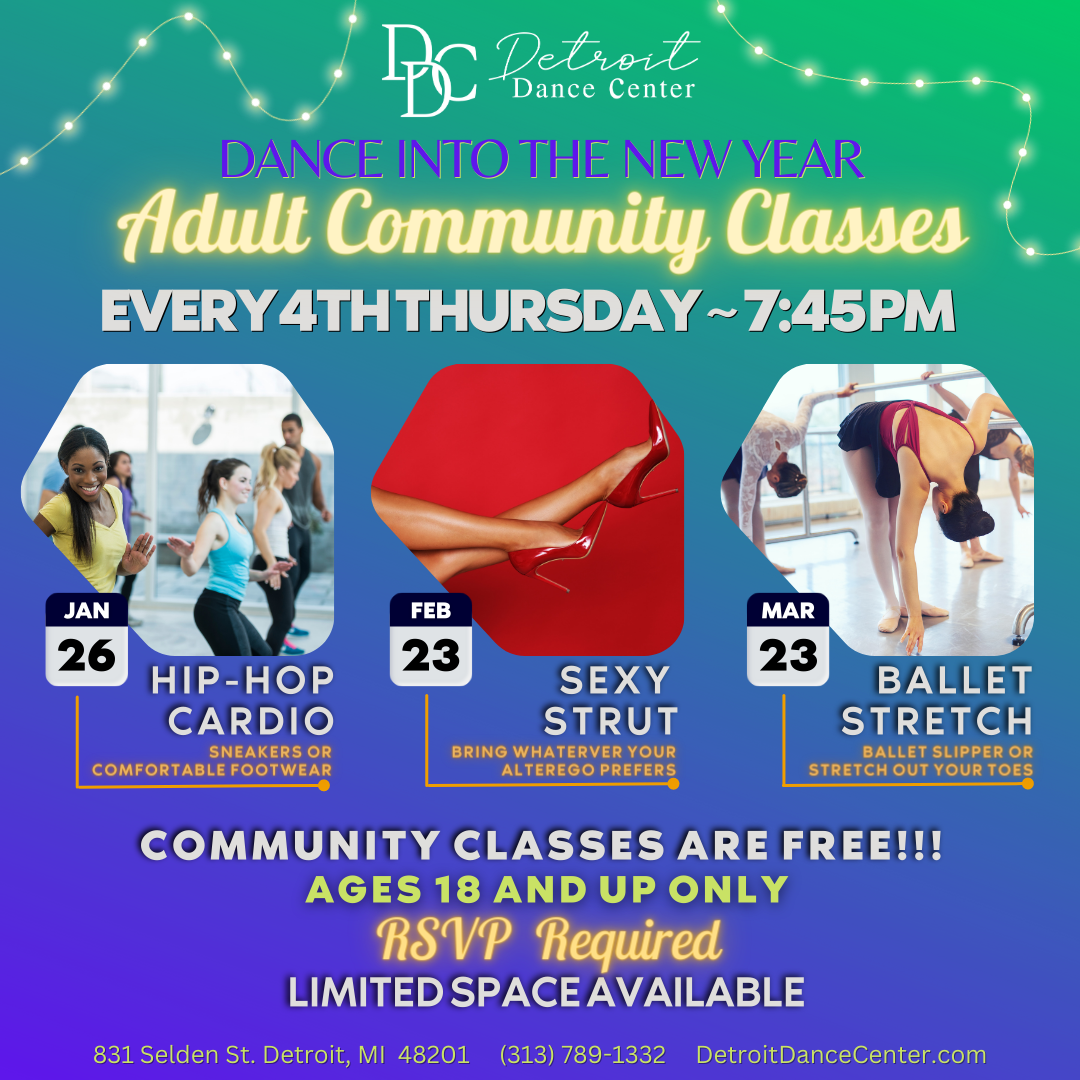 A little after the big day, on Feb 23, but sticking with the theme, they're offering a Sexy Strut dance class, where you learn to — strut your stuff! It's a free community class, and those that attend are encouraged to bring whatever your alter ego prefers.
The Corktown Wellness center exists to instill the necessary care one needs to live their best life by providing massage and promoting health and wellness. They offer various wellness services, including massage, private full-spectrum infrared saunas, craniosacral therapy, and arvigo abdominal therapy. Perfect for some self-care, whether you choose to practice that solo or with others.
Self-care comes in many forms, and Sew in Detroit has the perfect activity for those who love to "Sip n Sew." With their package, you can craft: pillows, circle skirts, drawstring bookbags, bowties, bonnets and eye masks, face masks, and wine carriers. There's a minimum of 4 guests for these events so grab the gals for Galentines Day and choose basic fun, more fun, or the extreme fun based on your group size!