"I typically talk about the therapy side of my business," says Kymaletha Brown, owner of The Great Divine Center. "I'd love for people to know about the studio side. We have a collective community dance studio for instructors to host yoga, meditation, dance, and fitness classes. The studio is open to the community for a minimal cost to offer an alternative to therapy for those that don't feel comfortable doing individual psychotherapy. It's an opportunity to release whatever you're holding onto through movement therapy."
Brown started with just the idea of having a breastfeeding business. The Great Divine Center came about as her thoughts kept growing while attending ProsperUs' programs. "I was putting together ideas of what I wanted to do after I finished my Masters and the entrepreneur program," explains Brown. "I knew I didn't want to work a nine to five". As she completed the program, Brown states, "I wanted my community to be at the center of whatever I did, which is why I chose to offer these services. The Great Divine Center is unique because you can't find the services we offer in one setting anywhere in Detroit. I realized that there were no adult dance studios within the inner city. They were all located in suburban areas."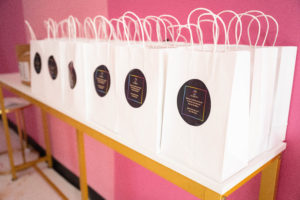 The Great Divine Center collective dance studio is open for any community member who wishes to teach a class. The studio brings affordable dance and movement therapy for any level and all aspects of dance that get the body going and blood flowing. Dance, yoga, meditation, and fitness all provide an element that strengthens mental health, improves physical health, promotes mindfulness and awareness.
"When I got The Great Divine Center's space, I realized how truly perfect the location was. Every studio like this is a space for younger generations," says Brown. "Our community space invites adults to come in and release, to get in touch with their feminine energy, and a space that allows moms to feel like themselves again."
"Once I had my son, I wasn't dancing, and I lost touch with a part of myself," explains Brown. "I'm grateful that this space can connect with so many women and community members. I get a lot of inquiries about the mission of the space because there's not much in our area for adults to do. And the studio goes hand in hand with the other services The Great Divine Center offers. It provides mental health, emotional support, and physical health. When you dance, you're able to tackle and release everything you've been holding in."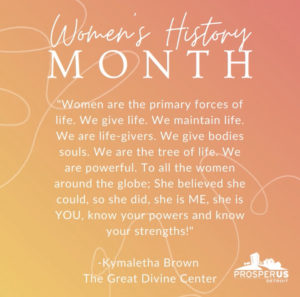 Brown's advice for those looking to open a business in the city is to "utilize your resources and take advantage of the city's programs; ProsperUs, Motor City Match, DEGC, TechTown. Utilize those as you get started and to aid you along your entrepreneurial journey."
Regarding being a woman whose business is featured for Women's History Month, Brown expresses that "it's empowering! The fact that I'm here, as a Black woman and business owner, making history by providing women a sacred space to be a woman truly, means so much to myself and the community. Women are the primary forces of life. We give life. We maintain life. We are life-givers. We give bodies souls. We are the tree of life. We are powerful. To all the women around the globe; She believed she could, so she did, she is ME, she is YOU, know your powers and know your strengths!"
Kymaletha Brown is the owner of The Great Divine Center. Detroit's first black-owned women's wellness center offers services for mental and physical health, as well as all things pregnancy and birth services. Follow on Instagram and Facebook.