"Everything started for me right before the pandemic. I had my daughter, and I was on maternity leave. As a first-time mom, I wanted to prioritize what was important to me and spent so much time and energy rethinking what I wanted to do with my life," says Dominique Mitchell, now owner of Simply Social Event Space. "I knew I wanted more freedom."
Simply Social Event Space became active on social media in April 2020. "I was scrolling through Instagram and saw a webinar about starting your own event space. The pitch resonated with me, so I took the class. I had also just gotten my real estate license a year prior, and that fit in line with the business model I was flushing out. Simply Social became active online, and I started sharing my passion and story."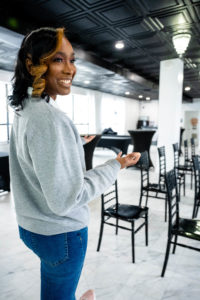 Mitchell documented the time that she was looking for a space on social media and grew an online following. Mitchell was driving to look at one potential venue when she drove by a for-sale sign and called the number. After calling, the owner pointed them in another direction, to the space Simply Social now calls home. Mitchell knew it was the perfect space when she walked through the doors.
"There was so much natural light," explains Mitchell. "The space itself was a blank canvas and had ample parking, which is so hard to find."
Mitchell began an event space during the beginning of the pandemic, which had her learning and staying up to date with the various restrictions. "When we first started, there were so many restrictions," Mitchell says. "Because of that, our space shifted with what the community wanted, and something we never saw ourselves getting into. Photography. Since we weren't booked with larger events every moment, we were able to rent out our space for styled shoots, meetings, intimate weddings of sixty guests or less, baby showers, bridal showers, birthday parties, and we've even been the backdrop for music videos!"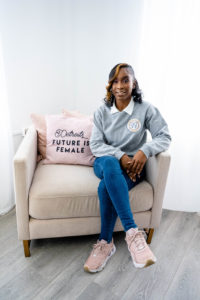 "Getting into business isn't easy," says Mitchell. "But being connected with your clients, target audience, and community on social media is a huge benefit for anyone looking to share their story and engage with people uniquely." As for advice, Mitchell encourages entrepreneurs to "have a business plan. You want to know your business in and out before you jump in. Especially if you're going to have a brick and mortar, do your research on the market and your competitors. See what they're offering and especially what they are not so you can create a niche and drive for your business."
"Funding is always a question I get asked about," continues Mitchell. "There are so many resources in Michigan; ProsperUs, Michigan Women Forward, Build, TechTown. Especially if you're a minority, Google all these organizations to see what they have and create a running document. Microloans are super important. I've used them to expand my business!"
And when it comes to finding that perfect space, "Places that I've searched to find unique spaces are Facebook marketplace, craigslist (can be shady but sometimes there are hidden gems there), LoopNet, etc. Also, drive around and utilize realtors. Do a good mix, and you'll have so much research to aid you in your business endeavors. You can never know too much."
Dominque Mitchell is the owner of Simply Social Event Space. Simply Social Detroit is a loft-style wedding venue. Take a virtual tour of the space, check out their pop-up list, book a pop-up event, and request a quote. Follow on Instagram and Facebook.