Randall Coats owns Wine 4 Da Ppl, a business curated around the education of wine and the conversations it evokes. Coats hosts private events and offers professional consultations. His events offer a chance to taste test and learn about wine and are tailored to his audience, from the most casual wine drinker to foodservice professionals and collectors. When working as a consultant Coats offers to help wine enthusiasts find suggestions to expand their collection and to "improve your venue's drink menu by adding a wine list perfectly paired with your culinary focus."
"Wine 4 Da Ppl originally began as a podcast, where I would talk about a particular wine that I chose from a local wine shop," says Coats. "I was using Garageband on my iPhone, which connected directly to SoundCloud, and I would make beats inspired by the wine. I found out I wasn't good at podcasting, namely because it required a lot of work that I didn't expect and wasn't in the position to put in. But I kept the concept because it's my philosophy for wine. Anyone who has a glass and is ready to enjoy wine is ready for it. That's always my approach, whether enjoying with friends or presenting wine during service. Let's find what you like and enjoy it."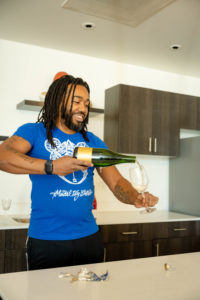 "During the pandemic, I had dreams of being an entrepreneur," Coats says. "I had this brand I had built the foundation for, and instead of podcasting, I decided I could educate people about wine, to find the ones they love, and take them on that journey. The other aspect of what I hope to do with my business is bring cultural awareness to Detroit. I could have entered the wine industry so much earlier if I had known about it. And because of it, I've been able to learn so much and travel to some amazing places. If someone had told me that when I was younger, I would have jumped at the opportunity."
Coates is referring to the lack of representation of Black people within the wine industry, a trend that is also seen in the wider alcohol industry and hospitality industry. Coats hopes to bring awareness and education of the industry to his community, one glass at a time.
"There's a lot I want to take on with Wine 4 Da Ppl," explains Coats. "My business is available for restaurants and bars to hire as a consultant, not only just to upgrade their wine list, but also to begin the conversation of how we bring wine to a community that is so underrepresented in our industry. Let's work through bringing wine education to the community and the sense of the world culture that can be explored through wine. There's so much to change and celebrate within the wine industry."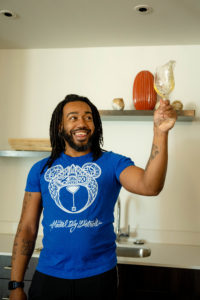 When it comes to entering the wine industry, be it for a glass or career, Coats suggests "find out what you like first. Did you enjoy something with a dish? Was it a glass you had on a special occasion? Once you find profiles you enjoy, you'll have a better understanding of your palate, and you'll be able to have a narrative to get people into that too. That's the first step when it comes to selling wine."
And in regards to Michigan's wine industry as a whole, Coats hopes "that Michigan can come together as an industry and find the grape that best represents us. It would do our industry so much good, so let's enjoy wine and make this decision as a state!"
Randall Coats owns Wine 4 Da Ppl, a wine-focused business offering education, events, business consulting, and staff training. Follow on Instagram, Facebook, and their website.