People of ProsperUS: Jamie Hendrix
By: Anna Gotskind
BeHer is a women's clothing store that offers a variety of tops, bottoms, one-pieces, and dresses in sizes ranging from small to plus-sized. Based in Morningside Detroit, BeHer specializes in urban street style and transitional all-day wear allowing customers to wear the pieces both to work as well as any evening event after.
 Jamie Hendrix, the founder of BeHer, started out wanting to restore a storefront in her community of Morningside. She didn't want to keep watching properties in her neighborhood get vandalized and decay over time. When she decided to launch BeHer she realized it would be the perfect addition to her community and the best use for the storefront she had already bought and renovated. Hendrix has a passion for fashion and improving her community. BeHer allows Hendrix to accomplish both of these goals in an amazing way. 
"I purchased the building before I had the idea of a business. I was thinking about just getting the property and restoring it and then possibly leasing or renting it to someone or just selling it. We chose the building we are moving into because we actually live in that community. We are down the street within four blocks."
After creating plans to restore the property Hendrix was motivated and decided she could start her own business as opposed to renting out the space to someone else and just collecting some of the money.
"I started revisiting my journals because I used to journal in college and I know that's where my dreams died. I came across "Hustler's Wife" and I had at the time made five logos and I had just started developing a business model. I was excited about it at the time, I mean really pushing it full monty but I didn't go anywhere. It died off."
"Hustler's Wife" was Hendrix's original name for the company. However, she received a lot of backlash from lenders and others business mentors she was working with. They thought it may be hard to relate to as not everyone is a wife or a hustler. She decided to listen to their advice and sought counsel from a marketing firm that established the name BeHer. Hendrix took a liking to this more inclusive name for her company and went with it.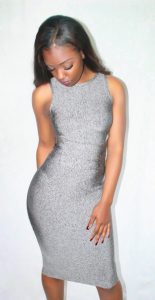 "BeHer is a women's clothing store. We offer a variety of tops, bottoms, one-pieces, dresses, in small, large, medium, and plus-sized. We are trying to be more urban street style but we like to offer our customers the transitionary all-day wear so they can wear this to their job and then go from their job to the bar or club or whatever evening event they have planned comfortably and at a reasonable price."
BeHer launched in 2016. For the first two years, BeHer was mainly a pop-up clothing store. Hendrix participated in big pop-up events including "Middle of Night" in the Wayne State area, the "African World Festival" as well as other local holiday fairs and markets.
At the end of 2018, Hendrix began construction on her property. It was almost completed in the winter of 2020, but challenges due to the onset of COVID-19 halted construction in the meantime. BeHer plans to open in the Fall of 2020 along with a website where people can make online purchases. Hendrix participated in ProsperUS's Entrepreneur Training Program this year to help with the transition.
"I started out as a pop-up. Now I'm trying to move into my brick-and-mortar. I got into the class to help me with that scale because it could be very challenging and I've never done that before. ProsperUS is now taking me to the next step and helping me develop my business brick-and-mortar."
Hendrix is very excited to open her store and continue growing her business. Additionally, she will be offering several services including alterations, tailoring, and personal shopping. Having these services will also help Hendrix combat challenges she may face due to the continuation of COVID-19 because people will have to make appointments. She will also have custom clothing designed and made in-store. Once the store launches Hendrix also plans to add an adjoining salon.

"We have regular spots that we are seen in, and we have built a small client base. We have over one thousand email addresses and a customer base established so that once we open we'll have tons of emails going out and tons of people we are going to reach out to come and support."
Address: 15715 E 1 Ave. Detroit, Michigan