People of ProsperUS: Germain Jordan and Fatima Fleming
By: Torisa Johnson
Germaine Jordan and Fatima Fleming started their journey working in the food industry around the same time they began their journey as partners in life. Running a business and planning a wedding at the same time wasn't easy, Jordan recalls doing a few events rather than working full time when starting up in 2017. Once their business, Blu VI Catering, legally formalized it took off quickly.
"I wanna say about two weeks after we started everything and got everything finalized…[Blu VI] took off." 
After being let go from his previous position of nine years, Jordan saw the opportunity to invest in his cooking skills, a passion he practiced since the age of eight. While attending the Art Institute of Michigan where he broadened his cooking skills, Jordan's peers encouraged him to start his own business. This, coupled with the savings of his 401k motivated Jordan to begin the company. 
While Jordan does the cooking, he and Fleming both handle the inner-workings of the business. Joining the Tapestry Fellowship was Fleming's idea, as she saw an opportunity to build their network. Even though he has not yet had the chance to attend many community events, Jordan expressed his gratefulness for participating in the program, as well as the other fellows' extreme support. 
Another valuable aspect of the program the couple identified was mentorship. Both mentors from ProsperUS and FoodLab, Chris Butterfield and Ederique Goudia, provided guidance and support. Because mentorship did not exist for them before the fellowship, this support was all the more valuable. Despite all of the success that Blu VI Catering has experienced, there will always be challenges that an entrepreneur must face and work to overcome. For Jordan, this challenge was that of market value.
"Being a chef and a caterer, the price market value can go up and down, and when it goes up that's when you have to charge extra for your clients and once you charge extra they're like, 'Why do you have to charge me an extra thirty cents for a chicken sandwich?' And that's because the price of chicken went up. So I have to balance out my book to get the prices that I need. I can't keep breaking even. In business, you're not going to get anywhere or get any profit [by breaking even]. So that's the business challenge as a caterer." 
As the business further develops, Jordan continues to work towards overcoming this challenge. 
Since joining the fellowship, Jordan and Fleming have reached every goal they originally set. These goals included saving up for a food truck with the lending circle funds, continuing to host pop-ups out of a local cafe, and building their network through connections with mentors Butterfield and Goudia. Future goals for the company include owning and operating multiple food trucks. Jordan and Fleming will continue to be the best at what they do, with aspirations of Blu VI becoming the number-one catering company in the state.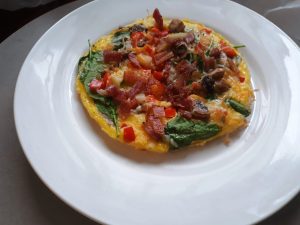 Even with the success of the business when it first opened, it took about a year and a half to legally formalize. While Blu VI is thriving, business is not yet where Jordan would like it to be. Obtaining a food truck is the ultimate goal for the couple, which they are pursuing in place of a brick a mortar. 
Jordan explained that a food truck will allow them to have their own space without having to invest in a building that they do not own. Achieving this has been quite a challenge for Jordan and Fleming. The abundance of licenses and certifications it took to become a caterer was challenging enough, but since the city of Detroit does not license mobile food trucks, along with high costs, starting with a food truck was not a practical reality. 
Instagram: @bluvicatering
Facebook: Blu VI Catering
Website: www.bluevicatering.com