People of ProsperUS: Annette Jordan
By: Anna Gotskind
Annette Jordan, founder of Goddess Life Botanicals, is a registered nurse and herbalist striving to help people be healthier through a variety of original products including several types of herbs, oils, and supplements. 
"Our plan is to make small-batch products to help improve your transformation to a more beautiful, vibrate, and energetic lifestyle through Herbs, life food, extracts, oils, essential oils, and body shea butters."

Annette Jordan founded her company, Goddess Life Botanicals, after working with an herbalist and witnessing the healing powers of holistic medicine. At the time, Jordan had already been working as a registered nurse for many years and because of her medical training, she understood what illness is like and what recovery should look like.
"This is something I've always been interested in but it started…about twenty years ago. My mom was diagnosed with cancer and we went to a holistic traditionalist and she was actually cured. I was involved in that a lot because I had to mix up like the formulas required for her to take on a daily basis."
When Jordan's mother was diagnosed with cancer she decided to seek out holistic care as opposed to western medicine. Being a part of her mother's holistic recovery inspired Jordan to learn more about herbalism and how to help others through its use. She ended up creating a couple of original, herbal products as a side project.
"I started an eBay business first not knowing that it would take off like it did. It did so well that I needed to come off of eBay because I was paying eBay way too many fees."
Jordan's products not only sold well but worked helping her customers feel healthier and keep coming back for more. After realizing the demand for her products, Jordan stopped selling on eBay and established her company, Goddess Life Botanicals.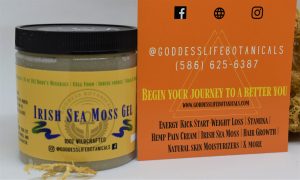 "Now, we have over seventeen products. I would say out of the seventeen, ten are our own original products. We sell everything from hair growth oil, beard oil, 100% whipped shea butter for the skin, and we sell internal cell food as well."
Jordan's products are 100% organic, wildcrafted, and made from high-quality ingredients. Additionally, all of her organic herbs, oils, and butters are always made in small batches to ensure freshness.
Before starting her company Jordan already understood health seeing as she was a nurse for several decades, however, this was her first business venture. She participated in ProsperUS's Entrepreneur Training Program in the Spring of 2020 where she was able to hone her business skills and continue to grow her company.
"I found it useful for, especially for me, was the accounting aspect of it and just kind of learning how to speak out and verbalize better what my business consists of."
With her business, Jordan hopes to help more people become healthier. Because she was a nurse as well, Jordan explained that people would always come to her asking how to be healthier and how to start a health journey.
"We recognized a need in our society for our products that will improve your immune system, strengthen and grow hair, prevent damaged skin, manage weight, alleviate pain, repair sensitive waxed /shaved areas, anti-aging and more."