Chanell Scott Contreras serves as the Executive Director of ProsperUs. Her role works with the team, our board of directors, and community stakeholders to guide the organization's vision and strategic direction and ensure that we have the resources needed to achieve our mission and outcomes.
"The most fulfilling part of the work at ProsperUs is that there isn't just one client, one story, or one aspect of the work that motivates me to keep going. The inspiration is all around me," says Chanell. "So many entrepreneurs are making incredible progress as they utilize ProsperUs resources. Our inclusive and growing team collaborates with respect, trust, and care for each other. In addition, leading our spin out to become a fully independent organization and a certified Community Development Financial Institution (CDFI) has been an exciting challenge. I am proud that securing CDFI status for ProsperUs has increased opportunities and capital for entrepreneurs and small businesses in neighborhoods."
Chanell loves to be outside with her family. She walks, hikes, attends festivals, visits museums, and eagerly awaits the opportunity to see live theatre performances again.
"There is no shortage of #BlackGirlMagic in my family, and my mom, grandmothers, aunts, and cousins have inspired me since I can remember," says Chanell regarding women that inspire her. "They are why I strive for excellence and seek to have a meaningful impact in my community. Going back to my great-grandmothers, many of them have or had leading positions at universities, as nurses, and in non-profits and businesses big and small. I pray my daughters will be as proud of me as I am of my predecessors."
–
Joanna Dueweke-Perez is recently the Senior Operations Director at ProsperUs Detroit. She supports the training, business services, and financial coaching team members as they provide excellent care to all participants in our various services and programs. In addition, Joanna's growing operations role offers structure to the vision for the organization and provides care for team members as they perform the important work with the entrepreneurs we serve.
"Working at ProsperUs has been life-changing and affirming," says Joanna. "ProsperUs is responsible for me finding my partner, Juan Carlos Dueweke-Perez, owner of Featherstone Agency! The team was working closely with Juan Carlos, who was supporting several businesses as a technical assistance provider, and we quickly became friends after I joined a Spanish class he was teaching. I joined him and Monica Echevarria Casarez as they were planning Southwest Detroit Restaurant Week. Needless to say, our many collaborations through and outside of ProsperUs evolved into a romance, and we were married in 2018. The whole ProsperUs team was there!"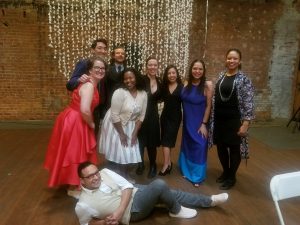 Joanna realized throughout her work "just how much I impact the community where I raise my children, live my life, and create community with others. ProsperUs grads are parents at my kids' school. They are who I shop with and who I count as friends. This work feels like co-creating a future with a vibrant community of creative, resilient, and passionate people."
Joanna is an avid adventurer, and she loves eating and drinking her way through Detroit's many amazing small businesses. Her favorite kind of small business is the kind that sells books, so she's always spending time exploring bookstores and comic stores. She also longboards, paddleboards, snowboards, rides bikes, and plays soccer with her family. You'll find her on Belle Isle for munch of Michigan's summer months.
When it comes to inspiration, Joanna considers herself lucky to be surrounded by it. "With all that inspiration, it's important for me to recognize one woman who inspires me constantly, my late friend and colleague, Monica Echevarria Casarez. Monica was a force! She worked tirelessly to support others in seeing their authentic selves in whatever form that was most powerful. She was a deeply thoughtful friend, caring spouse, intentional trainer to entrepreneurs, teacher for medical professionals, a fierce advocate for the Latinx community, and inspiring collaborator on many projects. I think about Monica every day and how she made me feel powerful, the ways she cared for my family, and how she wrapped every person that touched her in immense love. I can hear her reminding me to care for myself, to do work that matters, to remember to laugh, and to always have dessert."
–
Emily Sioma is our Executive Assistant. She assists in all the areas where extra hands are needed. She works closely with our Board of Directors, executes event planning, invoicing, and she's our jack of all trades!
"I love being a part of the ProsperUs Detroit team," says Emily. "It seems small, but whenever Chanell or Joanna copy me on an email to help coordinate schedules, they always refer to me as their colleague. Being addressed that way instead of as an assistant embodies how important everyone is to them and the organization. That sign of respect inspires me to think about how I address everyone I encounter and be intentional in how I interact with them."
In addition to her work with ProsperUs Detroit, Emily runs a small business selling vintage and handmade clothing. She spends her weekends at pop-up shops selling or visiting other vendors that have become close friends. She's also applying to grad schools to pursue an MSW to become a licensed therapist. She hopes to serve her community through that work by providing sex, relationship, and lgbtq+ focused therapy.
When it comes to women who inspire her, it's "the women and NB folx in my life around my age. They remind me to keep taking everything daily as we process and practice how to be adults together in a world full of turmoil."
–
Christina Foster is our Business Services Manager. She offers support by providing access to a network of professional service providers and collaborating to enhance business viability. For ProsperUs, Business Services include professional, trainer, and ProsperUs Detroit staff assistance in accounting, bookkeeping, commercial real estate, graphic design, human resources, legal, marketing, website development, food consulting, and more.
Christina is most grateful to be a part of " the groundbreaking partnership between ProsperUs Detroit and the city of Inkster. I am elated to be a part of such a historic event!" She celebrates the opportunity to be on a platform that "allows me to pay forward all the wisdom and knowledge I have gained throughout my professional journey. Every successful person had one memorable person in their life that gave them the opportunity or support they needed the most. I love living my life by lighting many candles with my one!"
When she's not assisting business owners, Christina is building memories with her family and exploring all the new businesses and landscapes Detroit has to offer and says, "I am genuinely in awe of all the breathtaking improvements my city is making! We will soon be back better than before!"
Christina is inspired by Shonda Lynn Rhimes, the African American producer, author, and screenwriter. "She inspires me because everything she has become started with her going against her belief that she would never be able to," she says. "Her story of keeping her hum alive no matter her adversities helps me remove self-doubt and live in a moment that allows me always to hear my hum!"
–
Shannon Warren is the Training Manager at ProsperUs Detroit. Shannon works with our training participants, who often come by referral from a graduate of our program. She ensures trainers are well informed and feel fully supported, heard, and included as part of the team. She also strengthens the relationship with our community partners. It is essential that they not only feel they are adding value to our endeavors but understand we are here to do the same for them.
"I take pride in being an approachable and relatable person," says Shannon. "So, I cherish the rare opportunities when I have downtime for a full conversation with an entrepreneur. In some of those conversations, we uncover barriers preventing them from taking the next step. Often, it gets pretty personal, and those are the moments when I give thanks for the challenges I've endured along my journey. I'm able, at that moment, to be a vessel to share resources and encourage someone through their hurdles."
When times shift, Shannon can't wait to enjoy a nice R&B concert at the Aretha Franklin Amphitheater, formerly known as Chene Park. "Fabulous music, the view, and a breeze off the Detroit River on a beautiful summer night are the highlights of life!" She also enjoys spending time with her three young people, "They are my motivation behind everything I do, including the attempt to make a difference in my role."
Shannon is most inspired by "a resilient woman," she says. "A woman who commits herself to become a better version of herself is an inspiration to me. A woman who looks adversity in the eyes with a vengeance is an inspiration to me. A woman who dusts herself off and perseveres. Often, a woman is the one putting the needs of others before her own. She doesn't have to be well-known or famous. She is the woman right in your community, in your family, at your job. That woman inspires. And now that you have identified her send her a card or a small gift to let her know how much you admire and appreciate her."
–
Tiffany Gist is our Financial Coach at ProsperUs Detroit. She helps cultivate entrepreneurs and prepares them with the financial knowledge to build their brands and businesses successfully. Her priority is to support others to understand their credit, household budget, and net assets. She works by the core principles of Accountability, Empowerment, and Oriented-Planning.
Tiffany carries an innate sense of compassion, understanding, and a burning desire to help others in need accomplish their dreams. She has been volunteering since she was a child at St. Christine Catholic School and started her lifelong dedication to helping others. "My mission is to uplift and empower people with the financial knowledge and life skills necessary to be successful!"
Outside of ProsperUs Detroit, Tiffany is a mother of three, "brilliant SouthPaws, so I love anything happening outdoors! I'm an avid reader (currently reading: 13 Things Mentally Strong People Don't Do by Amy Morin), an urban gardener, and I love to cook for family and friends when I have spare time. I also double dutch, volunteer with various community organizations (Brilliant Detroit Morningside and Sister Friends Detroit), and plan to open a transitional housing facility that provides wraparound support to women and families in need."
With all the fantastic work Tiffany does, it's no surprise that she's an inspiration. "When Charles Wright delivered me into this world, I knew I was destined for greatness," she says. "I'm the definition of resilience, persistence, and hope. A rose that emerged from the concrete of Brightmoor Detroit. I've overcome many obstacles and made it my life's mission to help lift other women UP and OVER their hurdles as well."