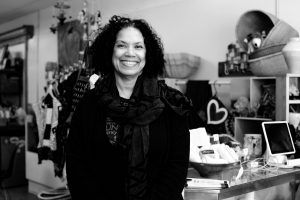 People of ProsperUS: Yvette Jenkins
Interview and Photography by Kenny Karpov
"I am Yvette Jenkins of Love Travels Imports. We're at 19452 Livernois, Detroit, MI, which is considered the Avenue of Fashion. We've been operating out of this location since 2013.
"This  journey as an entrepreneur in this phase started back in 2010, when I was downsized from a corporate job. I am a lifelong Detroiter. In fact, I grew up here on the West-side of the city not far from where we are now. I went to parochial schools from 1st grade all the way to 12th grade. That provided me a different experience, and, ironically, when I was 17, I traveled for the first time, alone and traveled to New York city to visit family I have not met before. My grandmother's brother and his family lived there and it was kind of a default trip, because my school's class trip was, of all places, London, and I preferred the trip to Hawaii. So the Hawaii one didn't happen and I was like 'I don't wanna go to London', but I did want to do something before graduating from high school. So, I went to New York. New York for a midwest girl was such a different kind of  experience and it exposed me to a different kind of energy than the midwest; and traveling exposed me to a whole different world. Exploring, seeing loads of people and art was always an interest for me. To be in a city with all this different convergence of energy was fascinating, and it lit up this desire to see more: to see more of the United States and see more of the world. And that was the beginning of it. 
"At that point, every year I had to travel somewhere, sometimes a couple times a year. And everything just grew from that. I got a job that I particularly wasn't fond of, but [it] was a way to pay for school and that continued [to allow] me to explore other countries. I would say, I've been to roughly 40 of the States, and to the Caribbean, Asia, South America, Europe and to Africa. There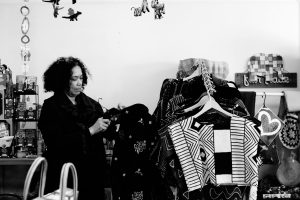 are places that I continue to want to see. During these explorations, one of the constant themes was checking out the art and looking for galleries. This was a way for me to create and develop my eye and how I saw things. I would look for things that are unique, that have texture and so on. About ten years ago when I was downsized from the corporate job  I wanted to do something that was impactful. At this point, I started working with one artisan group based in South Africa. And over the years, it's expanded to multiple artisan groups to multiple countries. It's evolved over time, and since I first started here, I was based next door, and now I'm in this shared space. 
Exploring, seeing loads of people and art was always an interest for me. To be in a city with all this different convergence of energy was fascinating, and it lit up this desire to see more: to see more of the United States and see more of the world. And that was the beginning of it. 
"The year 2019 was a tremendously challenging year for me. The construction along the Avenue of Fashion was on-going and they literally took out everything from building to building, from one side of the street to the other side of the street. And that was when I went through the process with ProsperUS to try and find a solution to the problem. I met them at the end of 2018, discussing the different challenges I faced. Matthew, who I worked with, suggested I should look into a line of credit  And that line of credit could enable you to have the flexibility to do different things. And so, at the end of 2018, we started the discussions.This new line of credit would help me with doing more shows around the State of Michigan and beyond and to create an additional revenue stream in order to help the business. That is very important, especially here in Detroit. Being in a neighborhood and in a commercial corridor, we don't have the [volume of traffic] you would normally see in a downtown or a midtown. And I believe this area is that next happening place. But that's been the next happening [thing] for the last seven years we've been here.
"When I think about sustainability and longevity, you have to think of other alternatives to generate revenue. Doing other shops, going out and doing pop-ups and various venues has been one of my strategies. So this line of credit is enabling me to do more shows and only use it as needed. So far, I've accessed that line of credit roughly four times. And the first time I accessed it was in October of 2019 and did a show. The approach that I take is that when the show is over, I pay it back, and that works for me, as it frees up cash flow, and allows me the ability to broaden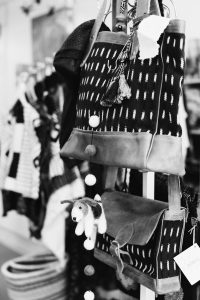 my reach and market the products I carry. And this year, I have two product lines that I plan on putting a lot of energy behind– both of them are from Haiti. One I am calling my 'Gratitude Collection', because I think in terms of energy and what you do, [sic] is by what you express and what you give out that returns and comes back to you. So gratitude is where my headspace is at, in that in expressing it, sharing it, and communicating it, and having other people be able to get that imagery. That is something I hear from my regular customers who say that they love my product line, because they can feel the positive energy contained within the product. They get that kinda vibe from it. Everybody is not gonna be my customer, but those who are very loyal and very supportive… I just love them. 
The focus is always on quality 
"The 'Gratitude' line… we'll be releasing around quarter three of this year, just in time for the holidays. It'll express the whole idea of peace, joy, love. The other product is from a group in Haiti that I've been working with the last five years. And that relationship has really evolved and has been a really fun product. I introduced the product in the fall, and people really liked it. 
"I have a young person who will be working with me during the month of May, part of her senior project. And we're just going to do a deeper dive into that. Putting that into a strategy and rolling that out to the public. I curate the store and products organically. The first ever group I worked with is based in South Africa. When I went to the country and met with them, I [was] always looking for things that are associated with the country or with a group, and then you have that mix of things that are different. It's not the same thing everyone is doing. The focus is always on quality [sic] and has a very high quality when you look at it. Like for example, I recently did a show and one of the ladies was looking at everything and came up to and said, "OMG, you have real stuff". Meaning that a lot of the things that are out in the marketplace… the quality isn't substantial.  It's not something you'll have for a long time.  And so she was so excited to see something that was tangibly done right and looked so beautiful and that could be sustainable. When I go around, that is what I do, like for example, I was in Peru. As I was walking around, you see a lot of the products, and visit a lot of places and look. And there was one particular location where I said to myself: 'that is a different twist on how that is made'. And I reached out to that person who had put that product together. We met, she brought different samples of things, and over this past holiday season we collaborated. I wanted something small and that was unique, and she had just that: these coin purses. They came from her with that unique quality.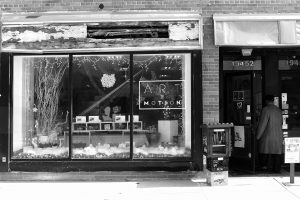 "I started over in the neighborhood about six-half years ago and it was for the first Detroit Design Festival. They had a segment called, 'Light of Livernois'. And I have to tell you, that was probably one of the most challenging and fun weekends. The plan was to activate ten places, ten businesses, [to] have art all over the place. And I received word on my location about a week before everything was supposed to jump off. At the time, I was set up next door, and we really only had about three days to transform the space. We did it. And by the grace of different artisans, we managed to pull it all together. That weekend was amazing. It was like being in New York. Imagine that on this street: there was car traffic, walking traffic, literally thousands of people, and it rained. It was misty and people were just coming in the door and looking at everything, people were buying and talking. One of my sisters came by to help me out, and I thought I would be able to go home, and change and get all ready for this– couldn't do it. I was trying to do so many different things. I was also sponsoring a documentary film called, 'The Silkies of Madagascar'. And I [had] Peace Corps volunteers here, as I invited them in, and so I was doing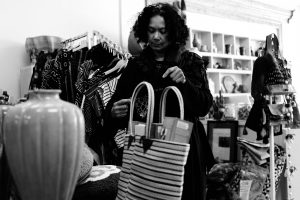 things at the University, having that whole presentation and workshop going on, setting up the shop here. And so I didn't make it home that day. And about ten o'clock at night, my sister just shut the door and said, 'I'm gonna close the door here or otherwise we'll be here all night!  You don't know how to say 'no!' That night for me created a level of expectation for what it would be like in the neighborhood.  Unfortunately, we ran into the polar vortex.  The design festival is in September, and it was one of the worst winters we had in a long time – snow started in November. And come January you could have shot a cannon down the street and not hit anybody. The weather was so arctic; it was just mind blowing. We went from the excitement from that first day of thousands of people to 'what have I done?' This neighborhood is one in which  there is a historical attachment to it. That, I feel, is slowly coming back. The neighborhoods adjacent to here all have disposable income and [sic] who have an interest in the arts and things creative. I think this is a perfect location to have something like this, and it's just that transitional piece, where people can habitually think about the kinds of things they want. You have the art galleries that stuck and stayed, that have their fans, and you have some of the food based businesses that are here and are pulling people in. And I think with the completion of the construction that it is really going to make it more pedestrian friendly and so people are going to start thinking about walking, biking, and coming up and exploring. We've seen evidence of that. The city is about to redo the landscaping and add furniture to the streets; it'll look like a very pleasant boulevard that you might want to stop and look around. What we see now is that people have a particular destination, and so they beeline it to that destination then beeline it back to their car or whatever. I think those things are gonna change, though. 
"I think the most challenging was with the construction aspect, and I really had to think about having additional revenue sources. And ProsperUS [sic] by me getting the line of credit enabled me to do additional shows. The first show I did cost me $745. And if I had to come out of pocket for that, I probably wouldn't have been able to do it. However, having that flexibility I was given by ProsperUS allowed me to do that show, allowed me to get in front of some new customers, and allowed me to generate some revenue at a very challenging time. I am very grateful that option was there for me. They have been extremely flexible in working with me, and I can make a call and in short order get what I need from them. On the flip end of it, as soon as I finish a show, I make sure to get that money back to them. It's been a very good working relationship."