People of ProsperUS: Tamarra Glenn
By: Anna Gotskind
"I never wanted to be the cookie-cutter nail tech."
Tamarra Glenn, the founder of Khamilion Kafe, began as a regular nail technician. When a few customers began coming in and requesting medical accommodations to their service most of the nail techs were not interested and did not know what to do. Glenn decided to make it her responsibility to learn about how to treat these clients safely. She discovered that in many cases alterations did need to be made for clients with different illnesses and Glenn taught herself how to treat them. A nail tech can't service a regular customer the same way as someone with cancer, kidney failure, blood issues, diabetes, etc.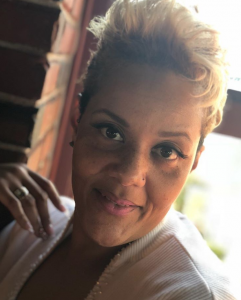 "People came in with different conditions and I decided to start educating myself more and because I was mobile and people have conditions and they couldn't get out I had to learn."
After beginning to regularly treat different kinds of customers, she realized how much she enjoyed helping people who couldn't safely receive the regular pedicure service. As a result, she started her own mobile pedicure service. However, because of the nature of some injuries and illnesses, Glenn did not have the medical certification to work with them. However, this did not deter her at all. 
"I'm training for my medical nail technician certification. So I'll be working with a podiatrist and what I wanted to do is get a stable location as well as being mobile."
Glenn explained that she loves education and learning. For her, getting certified to be a medical nail technician is not a burden but something exciting. 
"I created another brand under my business called Peddicured and it's for people who have illnesses and lost toenails due to injury or diseases and they were removed by a podiatrist. 
Her goal is to be akin to an orthodontist working with a dentist. Podiatrists often treat ingrown toenails, calluses, and other foot-related problems resulting from an illness or injury.
"Podiatrists don't really do the cosmetic part so that's where I came in to do the cosmetic repair, to safely recreate toenail. I'm the person that makes it look pretty after they're done."
With a medical certification, Glenn will also be able to do toenail reconstruction that not only treats the customer's condition but makes them feel beautiful too. She wants her clients to be able to do things such as wearing sandals without feeling embarrassed. Beyond this, she wants to make other nail techs aware of this customer demographic and educate them on how to treat these clients because often if the nail tech is not educated they can worsen the injury.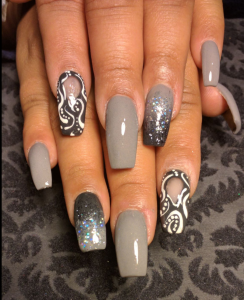 Glenn continues to educate herself by attending additional workshops and training. She also uses a medical questionnaire when people need specialized care and even asks people what medications they're on so she can learn about the side effects. Because she is mobile Glenn is also able to serve seniors that have to rely on other people to be mobile.
"I give them a sense of independence to still say 'Hey I can schedule my own appointment' and I don't have to rely on my caretaker to take me or wait for them'"
Having a mobile service was already valuable to Glenn because it allowed her to treat seniors and other immobile patients. With the advent of COVID-19, her business inquiries have actually doubled as people, especially those who are immunocompromised, need someone who can come to them for the service.
Glenn's business continues to grow and she is hoping to reach even more people after receiving her medical nail technician certification.