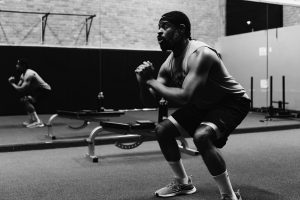 COVID-19 and the People of ProsperUS : Sterling Wise
Interview and Photography by Kenny Karpov
"I am Sterling Wise, owner of The Wise Decision, a health and fitness studio based in downtown Detroit. We offer an open gym style membership along with other fitness and health events outside the studio. 
"Honestly we were having our best year ever! Opening up 2020, the first two months were the best I've seen for our gym since I started running this business 13 years ago. Over the [first] two months of the year, we saw our membership grow and our programs offsite [begin] to grow as well. There was a great buzz with what we were doing and then this COVID-19 hit. And that shut us down. We've been closed since March 16th at 3pm. Now, if you look around the gym, there is nothing going on here: the lights are dimmed and the heat is turned off. However, there are still expenses for the gym, rent, utilities, and the such. Those overhead expenses have been the biggest struggle for us.  We're trying to retain where we are, in terms of the facility and as a whole, because we had a large overhead prior to the virus.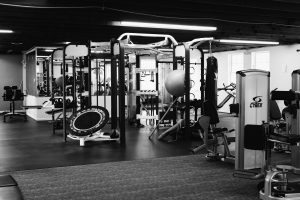 "I've been conducting some online training classes, but it's nowhere near where we were before with the financial gains, with the online programs, and all the other services we offer. As a company, we offer programs to individuals directly inside of our gym here but in addition to that we offer to companies offsite, that are now closed. Not only have we lost on the amount of people coming in here daily, but also the companies we worked with. To say this is a struggle is a small word to describe what is going on right now for us. However, I am optimistic that things will change, and we'll be back inside of here. However when we do open our doors, we have no idea what it's really gonna look like inside of here. How life is gonna be, once the gym is open… we're still looking forward to that time. All of the overhead costs, the rent and utilities, and the financial need that has not been there to support that [reopening]…
"In addition to that, we are a new up-and-coming gym, we have more of a family feel, and from my standpoint, our members are missing as well. We're not able to provide what our members need. To think… we have this great base of members in here and they are not allowed in here. It's a struggle. Some of our members have jumped onto the online classes and a lot of them have not. I'm sure mentally and physically they are suffering a lot as well. I would say from our members, o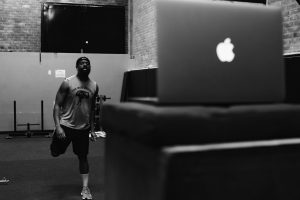 nly about 10% of them have joined the online classes and it's nowhere close where we would like to be. We were not just a gym, but much more than a gym with our programs inside the community; those we cannot provide online now. It's eerie. Coming here with the gym being empty is like when we first opened. We've only been at this location going on two years. Coming into the gym two years ago was like coming into how it is now for us. It's kinda heartbreaking really; [it] takes me back to square one when we first opened: me, being here, trying to build the clientele.
"To say this is a struggle is a small word to describe what is going on right now for us. However, I am optimistic that things will change, and we'll be back inside of here. "
"The scary part is how we open and when. There are so many unknowns out there. I do plan on continuing the online programming; however,[how] the gym will look once we open up… We'll have a heavy focus on keeping the gym clean, for one, but how we are gonna do that is hard. How do you keep members apart fro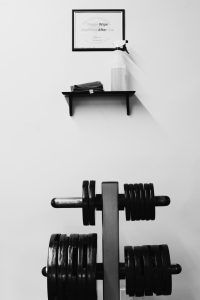 m one another? With us being a local gym, there was never a time when it was jam packed. From a business standpoint that is not such a good thing, but from a customer's standpoint it's great. We never had people waiting to jump on equipment or worried about being elbow to elbow, but now when people start coming in, that will play a major role. We don't really know how many of our members will come back in here once we open. I personally don't want to be around someone too close. I have to look at this from a customer's standpoint as well: some will wanna come and workout inside, some might not. I am sure we will lose customers from that. I've been in constant contact with some of my customers, and some have even asked if they can come in here now and use the equipment. I know those customers will be ready to come back for sure. We got customers that are very supportive–saying we're here to help' and 'anything you need once you open, let us know'. I think in the end we'll get our members back and then some. I think that will happen. We're in a great location downtown and we're pretty much the only gym in this area. I believe the time when the members come back will definitely take some time. Once the order is lifted and we're free to open our doors you'll see everyone come back hopefully within that first month. It'll definitely be a gradual process where you slowly see members coming back. And we offer outside classes, so I think some members will bite on that while others will ease themselves back into the gym. 
"How life is gonna be, once the gym is open… we're still looking forward to that time."
"I've been doing a lot of research, like in California and how they have opened their gyms out there. The unique thing about our gym is we're a small style gym, thus we cannot keep members on every other treadmill, and we only have four treadmills in here. It's one of those things where we cannot necessarily operate the same way as we did before. One idea I had [was] when we open would be to close midday, and use that time to fully sanitize the gym and then open up back in the evening. In terms of how we will actually do that, I don't know and there are too many unknowns out there at the moment.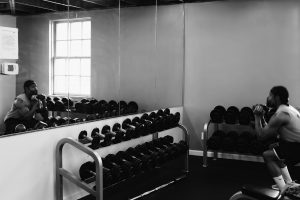 "ProsperUS has been there since day one. Even to this day, they have been fully supporting me. They were one of the first companies to come forward during this period and ask how they can assist me. They connected me with someone who can help me out during this period, and answer any questions I may have. They have been a tremendous help."