Remembering MONICA ECHEVERRI CASAREZ
Our beloved trainer Monica Echeverri Casarez passed away Easter Sunday due to complications caused by Covid-19. Monica taught our Southwest Detroit cohorts and her entrepreneurs loved her for many reasons. We remember Monica as a bright energetic personality with a sharp mind. She was a woman who valued justice and took action to help others. She had a way to entertain and inspire and we loved hearing her stories and insights.  A true community leader, Monica worked tirelessly to help those in need and we wish to honor her memory by ensuring that her work continues. We are mourning her loss, uplifting her beautiful spirit, and praying for her family and loved ones.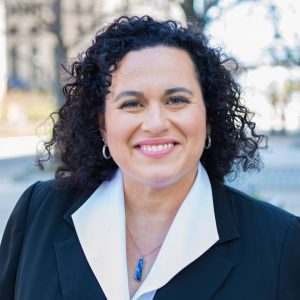 She was an instructor, business coach, and consultant who enjoyed the varied contracts with her company, Blue Order, LLC. She was a native of Michigan with family descendants from Colombia, South America. Her work history includes decades in the non-profit sector with an emphasis in marketing and public relations and several social service programs developed from the ground up. Her Associate and Bachelor's degrees are in Surgical Technology and Healthcare Management. She was a certified Surgical Technologist and Spanish language Medical Interpreter. One of her more recent projects, Southwest Detroit Restaurant Week was launched during Hispanic Heritage Month by Casarez and a team of volunteers to celebrate the diversity of Latin American cuisine found in Detroit.
ProsperUS Director, Chanell Scott Contreras shared the following remarks after her passing:
Colleagues and Friends,

I'm very sorry to share the terrible news that our beloved trainer Monica Echeverri Casarez passed away this past weekend due to complications caused by covid-19. 

Monica taught our Southwest Detroit cohorts and her entrepreneurs loved her for many reasons. I imagine that many of them, like me, appreciated Monica's ability to listen with intention and to have difficult conversations from a place of caring. I'm sure they also appreciated her sense of humor and helpful get-it-done attitude. Monica will always be remembered as a community leader and dear friend to many. We are thankful to have known her and send our deepest condolences to her husband, Jorge Casarez.

I pray that each of you and your loved ones are safe and healthy. 

Thank you for all you do, and for the bright light you bring to our community. 

With a heavy heart,

Chanell
We are devastated by the loss of 

Monica

. She was beloved as a trainer, community leader, and friend to so many people in Southwest Detroit and beyond. We hope that her admirable spirit motivates us all to greatness and to making the world a bit better, just as 

Monica

 did everyday. 
Monica 
was dedicated to each of the entrepreneurs she worked with, both through ProsperUs and her other work. Past students who need continued support should reach out to prosperus@swsol.org or contact us
At ProsperUs we are doing everything we can to honor Monica and to also continue our work supporting entrepreneurs. We are exploring additional ways to commemorate her work as well.
For more on Monica see the Southwest Solutions remembrance post on Facebook.
Reporter Neal Rubin wrote a wonderful story about Monica for the Detroit News focusing on her mission to serve, and her marriage with Jorge.
And this touching article from Henry Ford College.
Past students who need continued support should reach out to prosperus@swsol.org or contact us