COVID-19 and the People of ProsperUS: Lester Gouvia
Interview and Photography by Kenny Karpov
We're a casual fine dining Caribbean restaurant in the Jefferson-Chalmers neighborhood. The area is historic. The building is historic. From what I was told I am the first sit-down restaurant in the area in 30 years. The construction on the building started in 2017, and then, in late 2018 the build-out was finished and we opened our doors to the public. The building was used previously as a bank, so we chose to do a complete overhaul of the space. The idea was to create a restaurant inside and an outside to the community. We have an outdoor dining area. We wanted to lighten up the area and make the look a bit more fun and festive. But really, one of the key points at the beginning was trying to attract people not necessary from the neighborhood but outside the neighborhood to come into Detroit.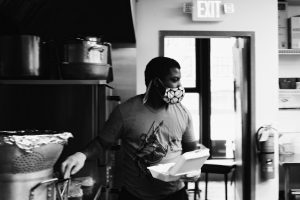 As it happens we're very close to Grosse Pointe – the city, the park, the woods and the shores. The people in those neighborhoods have been very supportive. As I call it, crossing over Alter road to come to Norma G's. We also have people coming from all over metro Detroit, like Livonia, Novi, and Canton. I've had customers come as far as Columbus Ohio, take a drive up, and head home afterwards. Which is really awesome. We've been open for 20 months now, we're not an old establishment like others in the area, but it took awhile for people to come into the neighborhood who live outside of it. It also took people living in the neighborhood a while to come into the restaurant. It all goes back to creating a fun and festive atmosphere like to come to my home, you're part of my home, we treat you kindly, we take care of you. We feed you good food and drinks. But really create a high level of service and really give a great experience. And for the most part we've been able to capture that in our 20 months.
 In 2019 we really picked up a lot, we experienced a huge buzz and momentum  – we were recognized by the Detroit Free Press as one of the top ten restaurants of 2019. We ranked number 7. Getting several accolades and receiving high ratings helped create that buzz I spoke of before. We started picking up once we made it through the winter months then this covid 19 hit. It changed the world for everybody. This is not an individual experience but when I speak to my individual experience we really took a big dip at the end of March. And what I found myself doing was moving towards takeout. Which is what I didn't want to do in the beginning. As I wanted to focus only on an in-dining experience when we opened. But now all of a sudden, carryout is the only model I had to go by. Oh well we gotta do takeout now, because we cannot bring anyone in. That was a challenge in itself because I had to let go of staff members, we had to lay some people off, and I was able to keep a few people on which I was happy to do. And we did have to close for a while and figure out how to run a carryout of the restaurant in a nice way–not to just slap together and say here you go! We still wanted our customers to experience the food as if they were dining in. It is difficult to experience this food through a styrofoam or cardboard container.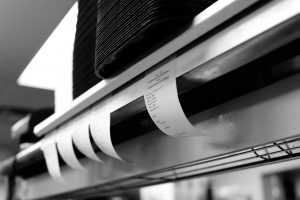 What was nice when we first started doing carryout was seeing repeat customers that have been loyal to us. That wanted to support us more than anything else. And they would come in and on their way out they would tell us thanks for being here and sticking around. I guess a lot of people expected me to close and stay closed during the pandemic. And the reality is I have a certain level of debt and a certain amount of time invested in this project. This is my life right now. I couldn't walk away from this thing, and I don't plan on walking away from it. God-willing, we keep fighting and we'll come out of this okay on the other side. At the end of March, we had an 85% loss in revenue. That's how big of a hit we took. In April, we rebounded a bit, but still down around 52% in revenue. We lost 100% revenue in alcohol sales. But it was never the mainstay of the business, it was a portion and the food was the main focus of our revenue. The question is how do you maintain and how do you try to bring some of the staff back. My staff haven't really left me; they just took time off – as a lot of them
work elsewhere and this was a job they did on the side, as we're a business that opens in the early evenings. It's a good second job or part time job for them. I think the problem we have right now is what the local city and state governments and what are the decisions they make going forward in order to open back up. As with restaurants and particularly for me, what are the rules in the coming months. I don't know how that is going to impact me yet.
 Everything that I am doing right now in my mind needs to be the preparation for the future – but is really a guess. I am assuming they may follow the rules that were set for Georgia and Texas: only 25% capacity for indoor dining. One of the positives for me is that I have a patio. So I could create a separation outside, but it's seasonal. So I am buying myself four months outside if I am lucky if we open quickly. I am hoping to be open sometime in late May or early June. If that happens that could balance out some of the loss if I am able to open up early and we have good weather til late September. We will still offer takeout, that is not gonna change. It's not what I planned but we will have to depend on takeout orders for a while. And if we can combine that with the outside revenue we would be okay. If the state says only 25% occupancy, I would lose around 70 seats if we started indoor dining, I would only have 20 seats then.  It changes my entire model because how do you make that work here. I don't want to have to install plexiglass and all that stuff. I think I have enough room where I can separate people, where they could be 6 feet apart. I am thankful for the patio and I am banking on the carryout to help us survive. If I can get back to a 30% revenue loss, I think there's a chance I could survive under that. But I know if that number continues to stay higher it will be ve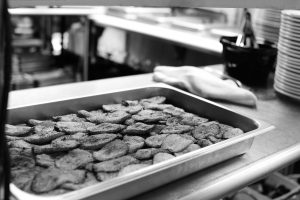 ry challenging for us. Because it'll mandate that I don't bring everyone on my staff back on. I have some customers telling me they miss the bar, they miss the talking, so I have a few ideas how I could bring the bar back. I miss my bartenders. I really had some awesome staff. And some of that staff is family. They loved the customers. The customers loved my staff. That completely changes now. How do you engage with customers? Do you wear a mask? Do you install plexiglass? I mean, it's not normal. This is totally abnormal. Am I angry about this – yes! I am pissed. I don't know who to be pissed at. I say my prayers. Maybe god is more pissed off than anyone else.  I am angry. The workers have been a part of my life for three years. We gotta change the way we interact with our customers. Maybe I will go to a reservation system. So it was really exciting to see how we did last year – we were moving forward and then this year started off a little slow then we saw a pickup, then this hit. It's literally a brick wall. And I hit that wall. I don't know how else I should put it.