People of ProsperUS: Candice Meeks
By Weyman Cohen
Candice Meeks started theCraft Cafe as a place to create.  The Cafe hosts art parties (10 or less people during COVID) including canvas and wine glass painting, vision boards and mirrors and private space rental for any occasion. Homemade art kits are also sold: five pre-sketched canvases, paint, brushes and instructions on how to paint the picture.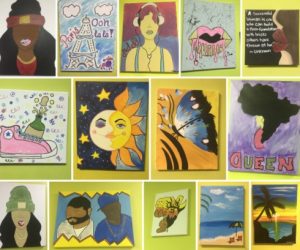 Meeks started her entrepreneurial journey when she was still working as a business consultant.  One day while painting in her house around happy hour Meeks  thought "there's nothing to do in this neighborhood." So she opened up a paint cafe.  She called up her cousins and collaborated on a logo with them.  With a taste of success, Candice found her way to ProsperUS to help flesh out her business plan. ProsperUS helped Candice develop her business plan and become an LLC.  "Any resource that we needed, ProperUS had the connection."  ProsperUS even had the landlord connection.  Candice met the landlord that she eventually went on to rent property from for The Craft Cafe in her ProsperUS class.  After renting for a year and a half, the craft business was so good Candice bought her own building.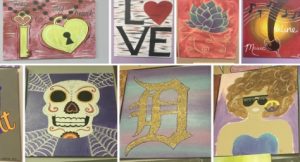 Candice and the Craft Cafe have adapted to recent times, hosting virtual art parties on zoom.  Candice has missed engaging with neighborhood artists the way she used to do pre COVID, but has adjusted well by creating numerous pick up times throughout the week where local artists can one by one scoop their homemade art kits and bring them home.   
The Craft Cafe has made its name as the rejuvenating epicenter of artistic creativity of Morningside Detroit.  And Candice has big plans for the future too, in fact the name "The Craft Cafe" hints at her goal of opening up a coffee shop to go along with the art making.